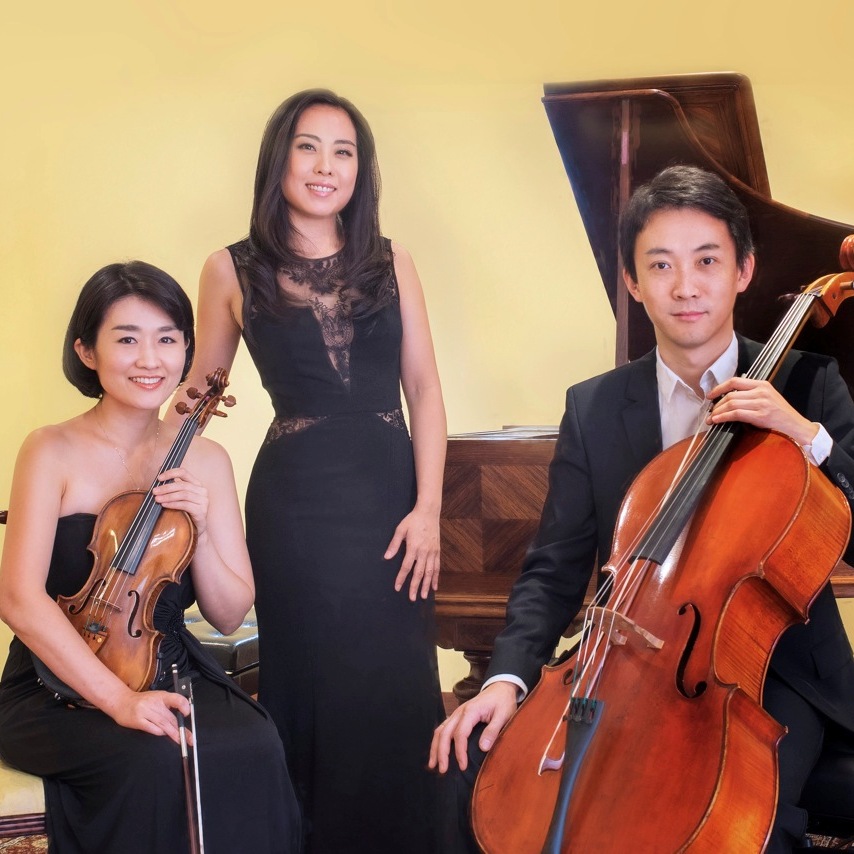 2014年三位國際知名的優秀音樂家決定結合他們對音樂的共同理念與熱情,和世界各個角落的人分享。
莫里索三重奏起名的靈感來自於著名法國印象派畫家- 貝爾特.莫里所;團員為張郁苓(鋼琴)、金恩娥 (小提琴)和朱牧(大提琴)。強烈的反應著二十一世紀的當代文化,他們融合了對音樂極細微的敏銳度和華麗不浮誇的技巧,呈現他們探索古代到現代作品的經典詮釋。

金恩娥 (小提琴)

金恩娥生於韓國首爾,於韓國和德國習小提琴,老師包括金南潤、邦朗、格拉多、史彼里等。她曾於韓國國立藝術大學的音樂學院考獲學士學位,於德國科隆音樂學院考獲小提琴與室樂演奏文憑,並在曼海姆州立音樂演藝學院通過音樂會考核。金恩娥十四歲即為韓國的水原交響樂團擔任獨奏,之後合作過的樂團有首爾室樂團、首爾學院交響樂團、水原愛樂樂團、韓國廣電台交響樂團等。二零零三年,她到德國參加孟德爾遜比賽,在室樂手一項贏得冠軍。迄今已在無數個音樂節演出過,包括美國的包道允音樂節,瑞士的韋比耶音樂節、立陶宛的風笛現代音樂節、柏林的「漸強聲」音樂節、德國的下薩克森國際室樂節等。又曾在柏林音樂廳、德累斯頓的阿布斯貝爾堡、波鴻的圖瑪音樂廳等擔任過管弦樂音樂會和室樂會的獨奏。她曾是曼海姆國家劇院的獎學金生和世界青年樂團的成員,來港前曾擔任水原愛樂樂團的第一小提琴首席和韓國國立藝術大學音樂學院的小提琴教師。

張郁苓 (鋼琴)

張郁苓是一位多元化的音樂家, 生長及教育背景融合了東西方的文化。在十三歲那年旅居倫敦,就讀普塞爾音樂學院,之後畢業於皇家音樂學院。自2004年在享譽國際的倫敦 South Bank Centre 演出後,傑出的表現不僅讓她得到高度的評價,更也奠下了此後與世界頂級音樂家們的合作機會,承當更具挑戰的角色 。2007年由英國 AVIE 唱片首度全球發行她與中提琴家 Maxim Rysanov 錄製的中提琴和鋼琴浪漫曲專輯得到多項獎項, 獲英國國際流聲音樂雜誌、 BBC 古典音樂雜誌及台灣 Muzik 雜誌選為當月最佳推薦專輯 。2009年同由AVIE唱片發行的「來自東方的詩人」專輯也受到極高的評價,特別是演奏的質感和專輯的構想。

合除了獨奏會之外, 張郁苓熱衷於室內樂和現代音樂並積極的推廣及發表現帶作品,和作曲家們一起研究發覺新的構想及聲音 與近代作曲家 馬水龍、Ed Bennet、Diana Burrell、John Casken、Joe Duddell、Elena Firsova、Brian Irvine、Elena Langer、Simon Mawhinney、Fumiko Myachi以及Dobrinka Tabakova等共事過, 其中有許多作品都是專門為她所譜寫的。合作過得音樂家包括 Douglas Boyd、 David Cohen、Paul Dunmall、 Brian Irvine Ensemble、林昭亮 、Roman Mints、寧峰、Maxim Rysanov、Alexander Sitkovestky、王健等多位大師。她是史坦威藝術家。

朱牧 (大提琴)

以優異的成績完成在中央音樂學院附中。2005-年考入德國柏林音樂學院,2007年以全優的成績圓滿獲得碩士學位。同年,以第一名的成績考入德累斯頓音乐学院。于2010年以優異的成績獲得德國音樂最高學歷-演奏家學位。 求學間多次獲獎:中央音乐学院第四届大提琴比赛第一名、第四屆全國大提琴比赛重奏组第一名、2006德國拜羅伊特國際比赛中獲獎等。並多次擔任樂團大提琴首席:中國少年交響樂團、中國青年交響樂團及柏林音樂學院交響樂團大提琴首席等,且隨樂團在柏林愛樂大廳以及柏林音樂廳舉辦音樂會。

多次在中國、德國、荷蘭、意大利、加拿大、美國、日本、韓國和香港等國家和地區舉辦獨奏與室内樂音樂會並與著名指揮家吕嘉、尼克.史密斯、埃申巴赫、杰捷耶夫、小澤征爾、庫特.馬祖爾等合作演出。活躍於演奏舞台之外朱牧也積極的推廣現代音樂,多次在北京現代音樂節、中央音樂學院室内樂音樂節以及美國、韓國、香港等國家和地區舉辦新作品表揚音樂會。

教學工作方面,曾應邀在廣州星海音樂學院講學,多次擔任國內重要音樂賽事評委。其學生多次在國內外比賽中獲得重要獎項。2011年被北京市教委評為優秀青年骨幹教師。現為中央音樂學院大提琴副教授,中央音樂學院附中大提琴學科主任。

Trio Morisot
In 2014, three exceptional and internationally acclaimed musicians decided to combine forces and share their passion for music with the world. Trio Morisot is named after the impressionist painter Berthe Morisot, and features Evelyn Chang (piano), Euna Kim (violin) and Zhu Mu (cello). Firmly rooted in the cultural realities of the 21st Century, this astonishing and technically brilliant ensemble is dedicated to insightful interpretations of the old masters, and the sensitive exploration of contemporary works by leading composers.

www.trio-morisot.com

Euna Kim (violin)

Korean-born Euna Kim studied violin and chamber music in Korea and Germany, receiving degrees from Korean National University of Arts, the Kölner Musikhochschule and the Staatliche Hochschule für Musik and Darstellende Kunst in Mannheim. She made her solo debut at age 14 with the Suwon Philharmonic Orchestra, before becoming a fellowship student at the National Theatre Mannheim and a member of the Jeunesse World Orchestra. Euna was awarded first prize at various competitions in her native Korea before receiving a number of important European commendations. Euna has appeared in solo and chamber music recitals throughout Europe and Asia.

Euna has performed as soloist with the Seoul Chamber Orchestra, the Seoul Academy Symphony Orchestra, and the Korean Broadcasting Symphony Orchestra. She has also performed at the Bowdoin Music Festival in the USA, The Verbier Music Festival in Switzerland, the Gaida Contemporary Music Festival in Lithuania, the Berlin Music Festival "Crescendo" and the Niedersachsen International Chamber Music Festival in Germany. In 2011, she featured at the Hong Kong Arts Festival, New Stage Series.

Evelyn Chang (piano)

Evelyn Chang is a Taiwan-born artist with a diverse cultural background that easily allows her to effortlessly navigate the East and the West. She moved to London at age 13 to study at the Purcell School of Music, and she completed her musical training at the Royal College of Music. Her London debut in 2004 was a resounding critical success, and her debut recording with violist Maxim Rysanov on Avie Records received numerous awards and was picked as Editor's Choice by Gramophone, BBC Music and Muzik Magazine in 2007. Her 2009 debut solo album Poets from the East also released by Avie Records garnered high praise for both the concept and her high quality of playing.

Evelyn has been actively involved in promoting new music, working with renowned composers Ed Bennet, Diana Burrell, John Casken, Elena Firsova, Brian Irvine, Elena Langer, Simon Mawhinny, Fumiko Myachi, and Dobrinka Tabakova. Evelyn is equally active on the chamber music platform, collaborating with outstanding musicians and groups such as Douglas Boyd, Cho-Liang Lin, David Cohen, Paul Dunmall, the Brian Irvine Ensemble, Roman Mints, Alexander Sitkovetsky, Maxim Rysanov, and Jian Wang to name only a selected few. Evelyn Chang is a Steinway Artist.

www.evelynchang.com

Zhu Mu (cello)

Zhu Mu has performed globally as a soloist and chamber musician. He was the winner of the Central Conservatory of Music Cello Competition in Beijing, the 4th China National Duo Cello Competition, and prizewinner at the 2006 Bayreuther International Music Competition in Germany. An active chamber musician, Mu not only performs traditional repertoire but is also active on the contemporary music scene showcasing works by leading Chinese and Pan-Asian composers. In addition to his solo and chamber music appearances, Mu is also an accomplished orchestral musician. He has collaborated with the Berlin Philharmonic Orchestra, and worked under the illustrious batons of Tan Dun, Christoph Eschenbach, Valery Gergiev, Seiji Ozawa, among others.

In great demand as an educator, Mu has been invited to give master classes throughout China. Currently, he is a member of Cello Faculty at the Central Conservatory of Music in Beijing, and head of Cello department at the middle school of the Central Conservatory of Music in Beijing. Mu holds performance degrees from the Central Conservatory of Music, the Hochschule für Musik in Berlin and was awarded a Ph.D. with honors from the Hochschule für Musik in Dresden.