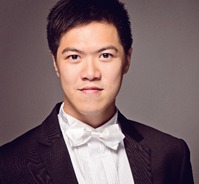 Chan Chung Ho enjoys a prolific career as a performer. He has performed as a soloist and chamber musician throughout the United States, Germany, Holland, Japan, Taiwan, and China. Born and raised in Hong Kong, he has enjoyed working with professional music groups including the Hong Kong Philharmonic Orchestra, the Hong Kong Sinfonietta and the Hong Kong Wind Philharmonic Orchestra; and with world-renowned conductors such as Edo de Waart, Jerry Junkin, Lu Gia, and Zhang Xian. Chan is also the founding member of La Sax, one of the most earliest and active saxophone ensembles in Hong Kong that promotes the art of saxophone playing.

Chan has distinguished himself in the international music scene by taking part in numerous saxophone master classes conducted by respected saxophonists, such as Claude Delangle, Eugene Rousseau, Jean-Yves Fourmeau, Joseph Lulloff, Timothy Mcallister, Otis Murphy, and Kenneth Tse. He has also appeared in the world's leading saxophone festivals including the World Saxophone Congress, the North America Saxophone Alliance Conference, the U.S. Navy Band Symposium, the Hamamatsu Wind Academy, and the Hong Kong International Saxophone Symposium.

Upon completion of the Music Talent Development programme and the Bachelor degree programme at the Hong Kong Baptist University and the Hong Kong Academy for Performing Arts respectively, Chan gained his Master of Music degree from the University of North Carolina School of the Arts, where he studied with international renowned saxophonist Taimur Sullivan in 2013. In addition to his performing career, Chan devoted himself to the development of classical saxophone playing in Hong Kong. Currently, he teaches at the Hong Kong Academy for Performing Arts, The Hong Kong Baptist University and The Education University of Hong Kong.